Asheville Brewing Co. where you're special… just like everyone else.
Zelda Gin & Tonic IPA
We will release this cocktail inspired IPA brewed with juniper berries and lime peel on Friday, March 9, at 5 p.m., on draft at both our downtown and North Asheville brewpubs. It will also be on tap at Zelda's Cocktail Party: A Roaring 20s Evening at Asheville's Hilton Garden Rooftop Bar on Saturday, March 10, 7 to 10 p.m.  
Zelda Gin and Tonic IPA is a sparkling bright, slightly fruit-forward, tribute to Zelda Fitzgerald as well as to the 1920s cocktail that's still a classic today.
Our brew crew added dried juniper berries and dried lime zest in the boil, which gives this beer a little pineyness to balance the sweetness of the lime. Juniper berries, of course, are a primary ingredient in gin. The dried lime zest has a candy-like flavor and aroma, which Asheville Brewing head brewer Pete Langheinrich likens to "sucking on a green Jolly Rancher." We also added some our favorite hops to this refreshing IPA, including Citra, Equanot, and Galaxy, while keeping the malt bill simple, with Pilsner malt and wheat. It's a light, clean, sparkling cocktail beer with an 8 percent ABV.
Zelda Fitzgerald, wife of writer F. Scott Fitzgerald, lived in Asheville on and off for a few years as a psychiatric patient at Highland Hospital just north of downtown. She tragically died there in a fire in 1948. Zelda remains an iconic symbol of the vivid and heady world of flappers, cocktail bars, jazz, and fun in 1920s America. That's what we're striving to capture with this small batch brew.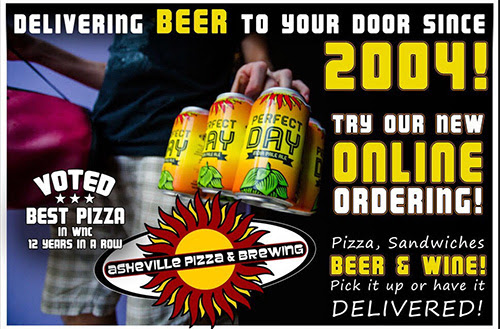 CLICK ON IMAGE TO PLACE AN ORDER!
Movies Showing 
March 9 – 15
$3 Movies at Merrimon
675 Merrimon Avenue
*All movies on Tuesdays & Wednesdays are 2D*
Did you know …. we show our 
7pm
 feature at 
12pm
, 
Monday
–
Friday
? Sneak out and watch a lunchtime movie!
Star Wars: The Last Jedi
(click pic for preview)
Friday:  12pm, 3:30pm, 7pm, 10:15pm
Saturday: 12pm, 3:30p, 7pm
Sunday–Tuesday: 12pm, 3:30pm, 7pm, 10:15pm
Wednesday–Thursday: 12pm, 3:30pm, 10:15pm
The Princess Bride
(click pic for preview)
Wednesday–Thursday: 7pm
(click on pic to check them out!)
On April 22, we're teaming up with our friends at The Orange Peel to bring Austin's world famous Ghostland Observatory to that awesome venue. Tickets are still available to see this amazing techno-pop duo!
Get tickets here
We are known for being pretty wacky, now you can see for yourself!
Subscribe to ABC's YouTube Channel and check out all the fun we have had over the years!