---
Weekly happenings on Hunt St. Actually on Morris St.
Well, you know what we mean.
---
Summer of Gose
Kick off your Memorial Day Weekend celebration with a Gose party!  We love the creativity and versatility of the style that pairs well with the pool, beach, or lake.  Salty and tart, these beers are great before, during, and after grilling outside.
On tap for Thursday:
Anderson Valley Framboise Rose Gose
D9 Brewer's Day Off Gose with Cucumber & Cantelope
Founder's Green Zebra Watermelon Gose
Hi-Wire Citra Gose
Special $8.00 flights all day.  Come say hi!
Cheers!
Chad & Ashley
Fun Thursdays
Featured draft specials all day, every 

Thursday

.
---
Summer Sippers
Compass Sauvignon Blanc 13.99
Fish Hippie Riesling 11.99
Laurent Miquel Rose 10.99
Pazo Castrelo Albarino 14.99
---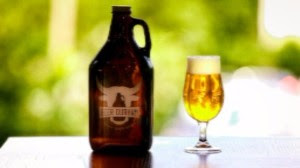 Join us every 
Tuesday
 for
Growler Tuesdays
10% off all growler fills, all day, every 
Tuesday
---
This week at Beer Durham…
Tuesday, 5/22 – Growler 

Tuesday

 – 10% off all growler fills
Wednesday, 5/23 DCP Farmer Market, Durham Central Park, 

3-6pm


Thursday, 5/24  – Gose Party, $8.00 flights all day.
Saturday, 5/26 –  DCP Farmer's Market, Durham Central Park, 

8am-12pm


Monday, 5/28 – Closed.  Happy Memorial Day!
Weekly Featured Drafts
Hi-Wire Enchanter Baltic Porter (8.3%) – An abundance of dark malts with tannic dryness imparted by American White Oak.
Founders Green Zebra Watermelon Gose (4.6%) – Subtly sour and a little sweet, this ale is a refreshing take on a nearly extinct German style, gose.  The soft mouthfeel and dry finish comes courtesy of the addition of sea salt.
21A El Sully Mexican Lager (4.9%) – A crisp Mexican-style lager with light notes of spice from Northern Brewer hops.
Order your favorite wines at deeply discounted prices with Beer Durham's "Wine by the Case" special order program.
Contact us to special order your favorite wines by the case. Any full case order is available at 15% off by-the-bottle prices. Cheers!

Gose Time!
Anderson Valley Framboise Rose Gose
Avery El Gose
Boulevard Tequila Barrel Lime Gose
Destihl Blueberry Gose
Steel String Zupfen Gose
Terrapin Good to Gose
Westbrook Gose
Wicked Weed Tropicmost Gose
And, mark your calendars to save the date for our Gose celebration Memorial Day Weekend!
Thursday–Sunday, May 24-27
Looking for a special gift? Check out our selection of Beer Durham logo items, including hats, t-shirts, and glassware. Gift certificates available too.
We offer beverage catering. Contact us to discuss your on- or off-site private party or special event.
Beer Durham is open 7 days a week
Monday
 – 
Wednesday
12-8pm
Thursday
 – 
Friday
12-10pm
Saturday
 9am-10pm
Sunday
12-7pm
Beer Durham is available for private parties or beverage catering. Give us a call to plan your event. 

Beer Durham, downtown Durham's neighborhood bottle shop and growler filling station. Featuring 20 rotating taps, wine by the glass and to go, and fresh growler fills. Have a beverage while you shop & then take some to go. Cheers!

Free parking is available for customers adjacent to the store in our Morris Street lot

---

Gone Jerky (Winston-Salem, NC) Traditional, hot, & teriyaki flavors. "The most delicious beef jerky in the world."

---

Also available, peanuts from Henderson's own The Peanut Roaster & Carolina Kettle potato chips from 1 in 6 Snacks of Raleigh.