Double Dubbel this this, Double Dubbel that that
Double Dubbel BarrelBelgian
Double Barley Brewing has released our Double Dubbel Barrel Aged in Biltmore Estate Limited Release Zinfandel barrels! This combination imparts subtle notes of cherries, vanilla, spices, and oak into a rich, creamy, flavorful ale. Cheers! Very limited supply left!
Cheryl and Emma's 50 Birthday Bash


July 21st

; 

4pm-11pm
Come out and celebrate the big 50 with Double Barley Brewing owner Cheryl and lifetime friend Emma. This 60's/70's themed party is sure to be groovy with tunes from Abby Davis starting at
4pm
 and 6 String Drag taking the stage at 
6pm.
 Come dressed in your 60's best ready to party.
EVERY 

WEDNESDAY
Wednesday
 will feature one menu item for 20% off. Try them all!
July 10th
The Casual Pint
Charlotte, NC
6pm – 10pm
July 12th
The Glass Jug Beer Lab
Durham, NC
5pm – 8pm
July 13th
Veda St.
Taproom
7pm
July 14th
Jeremy Burns
Taproom
7pm
July 20th
Ken & Kricket
Taproom
7pm
July 21st
Emma & Cheryl's Birthday!
Taproom
60's and 70's Theme
all about that beer
currently on tap at double barley in smithfield nc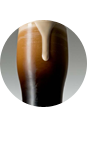 Thrilla' in Vanilla Porter
Abby's Amber Ale
Cinnaster Mole' Stout
Revelation Pale Ale
Field of Dreams
Blueberry Wheat Ale
Wine Barrel Double Dubbel
Steakcake Stout
Wilma's Wandering EyePA
We have been working on a special collaboration with Lowe's Foods. Coming to Lowe's this September you will be able to experience our Southern Barrel Brown Ale with molasses and spices! Cheers to delicious partnerships!